Friday Night Notes
Saturday, November 10, 2007
a cold, quiet night in the market...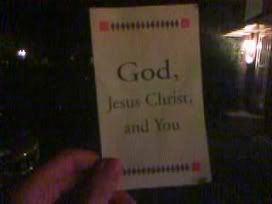 After a week off (we were visiting family last weekend), it was good to be back at my post in the marketplace, preaching the Word of Truth. I was the sole preacher tonight; pastor Tim was just too tired from working a great deal of overtime this week. I was pretty tired myself. I too worked a great deal of extra hours at my workplace and I spent most of the week fighting a nasty virus. That said, God gave me both the strength and will to go out and preach the Gospel. Praise God!
This is the first Friday night, this year, that I had to wear my winter jacket. Yes, it was
that cold
. I'm not going to gripe too much about the weather in this post since I know all too well that in Canada, it's only going to get worse over the next few weeks.
All and all, it was quiet in the market tonight. I suppose the cold weather kept many souls from going out to party. Things will probably remain quiet until the Christmas season starts; then the crowds will be out in full force. Still, even on a quiet night, I surely reached hundreds of souls with the Gospel message. Again, praise be to God!
I enjoyed watching the various facial expressions people showed me as they walked by. There was a man who looked down his nose at me and without saying a word, he clearly conveyed the message that I was way... way below him. Then there was the young lady who took one of my Bible tracts with a grin on her face, probably thinking she was doing me a favor by taking one of my "flyers". On the positive end, there was a young man who drove by and when he saw my
Bible sign
, he nodded approvingly, and eventually said: "God bless you for this!"
I spent a great deal of time speaking to a young man named Anthony in the last hour of my evangelistic endeavour. I don't think Anthony had any particular faith, but he did mention that he approved of ecumenism, so I guess he's one of those "all-roads-lead-to-Heaven" types. Nevertheless, we had a great conversation. He had intelligent questions for me, and we turned a number of times to the Scriptures for the answers. After a Q&A session that lasted near 20 minutes, he took a Bible tract and thanked me for my time. The Lord bless Anthony and his friend Gabriel, may He give them life and life abundant.
Before leaving the marketplace for the night, a man walked up to me and pointed to my
Bible sign
and said:
"If any of that ?#$% were true, the world would be far better place!"
The man was clearly hard-hearted and had no time to listen to reason, so I just walked away. How sad though. Wicked men are real quick to charge God with evil, but so slow to be thankful to Him for His abundant tender mercies and providence.
With that, dear readers, I'll close this week's Friday Night Notes. It's time for some well earned rest. Have a great weekend, dear ones, and a blessed Lord's Day.
Rand
Labels: Friday evangelism