Lovely Feet!
Tuesday, June 27, 2006
Biblical responses are the best...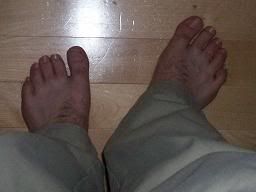 I have been a preacher of the Lord for nearly six years now. I am not in full time ministry (as in, I'm not a pastor of a church), but in one form or another, I have been preaching the Gospel to both saint and reprobate. I never imagined I would ever, willingly, take up any ministry that involved public speaking but the Lord has a way of working His will out in all His saints.
My preaching has produced a wide variety of responses throughout the years; from great joy and thankfulness from God's people to the violent curses of the wicked. It is worth noting that well over 90% of all the reactions to my preaching could be classified as extreme. In other words: joy and thankfulness I got, violent curses I got plenty of, but I have received very little indifference. Again, the Bible rings true:
"Marvel not, my brethren, if the world hate you. We know that we have passed from death unto life, because we love the brethren. He that loveth not his brother abideth in death." (1 John 13-14)
Now this post isn't going to be an analysis of the dynamics of the various responses to Gospel preachers. This post is actually a request to all my Christian brothers and sisters. A personal favour, you might say. The Bible says:
"For whosoever shall call upon the name of the Lord shall be saved. How then shall they call on him in whom they have not believed? and how shall they believe in him of whom they have not heard? and how shall they hear without a preacher? And how shall they preach, except they be sent?" (Romans 10:15a)
And then check out the answer:
"How beautiful are the feet of them that preach the gospel of peace, and bring glad tidings of good things!" (Romans 10:15b)
I love that verse. I mean... I LOVE IT! And I'm absolutely convinced that every honest and faithful Gospel preacher out there has a soft spot for the above verse. The sweetest compliment I could ever get from anyone hearing me preach the Word would be to quote Romans 10:15. To me, it's the most biblical expression of thankfulness one can give to those whom the Lord has called to preaching/teaching ministry.
So here's my request, dear saints: memorize the last phrase of Romans 10:15, and make sure to recite it to any Gospel preacher you should come across. Especially the street preachers and the evangelists, believe me, they need all the encouragement and gratitude they can get. It will warm their hearts and refresh their spirits.
Hoping to one day be told I have nice feet...
Rand