Friday Night Notes
Saturday, March 28, 2009
soldiered through this one...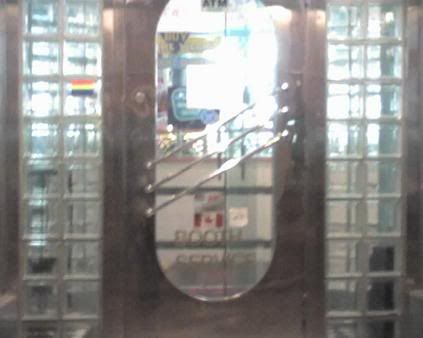 "And he (king Josiah) brake down the houses of the sodomites, that were by the house of the LORD, where the women wove hangings for the grove." (2 Kings 23:7)
That's the Scripture that came to my mind when I saw the door of the restaurant which is right in front of our preaching spot. You'll notice in the picture I took that there is a sticker of the "homosexual flag", or "rainbow flag". The souls that work in that restaurant have seen and heard our preaching for years now... decades even. Our testimony has been as constant as the Temple was in Old Testament Israel. Yet, you see that human depravity has remained constant over the last 3000 years. How sad... how terribly sad.
It was a difficult night of preaching for me in particular tonight. It's not that the crowds were particularly vile towards me, nor do I have any serious persecution to report. The problem was with my health. The same illness that had plagued me last summer struck again hard this week, making this evangelistic effort physically challenging to say the least. I prayed that the Lord would give me wisdom as to whether I should go out preaching tonight, and when I got the answer, I prayed that He would help me and sustain me, and I am glad to report, He totally did!
The marketplace was quite busy tonight. The warmer weather is well on its way and more and more people are going out to the many restaurants, pubs and bars in the market. It's somewhat heartbreaking to see so many lost souls pursuing sin and vanity, but at the same time, it's good to have the opportunity to preach the Gospel to such vast crowds.
Here are some of the more memorable events of our night of street preaching:
1- My First "One-Word-Answer":
A woman walked up to me as I was offering tracts to those who walked by me. She read my
Romans 6:23
Bible sign and then offered the following advice:
"You need to give out your message, which is a good message, in a way that is the least offensive possible."
"
No
," I replied.
2- A Seeker... Perhaps...
A young woman took one of my Bible tracts and started reading it in front of me. I let her read the material uninterrupted when she looked up to me and said:
"Don't you have anything to say to me?"
"What did you learn from reading my Bible sign and reading that tract you just took?" I asked.
Seeing her hesitation I continued:
"What you have in these is the basic message of the Gospel of the Lord Jesus Christ. You have sinned, and your sin separates you from God. You need to be born-again. You need to repent of your sins and come to God by faith."
I briefly explained to her what the second birth was all about and told her that what God uses to effect the Second Birth is the Scriptures. I encouraged her to read and study the Bible. She thanked me for my time and went on her way. The Lord be merciful to her.
3- My Second "One-Word-Answer":
A young man walked up to me
(got a little too close for my comfort)
, and said:
"What I want you to do is ask yourself... really... do you really think that this is God's will for your life?"
"Yes," I answered.
4- We're Stars!
Students from an evening photography class were our in force in the market, taking shots of everything and anything interesting. Both pastor Tim and I were asked by some of these students if we would mind having our pictures taken, so we played along. The way we see it, these pictures will have the Scriptures in them, and will be shared among many unbelievers. The Lord use those pictures as he sees fit.
One of the students might send the pictures to us by e-mail. If he does, I'll post them.
There were plenty of other highlights and lowlights in our night of evangelism, but I'm too tired to continue right now; my illness has really taken its toll. Please continue to pray for me, dear saints of God, for both spiritual and physical strength. I've been asked to preach the Lord's Day evening service... please pray for me.
God bless you all, dear readers. Have a good weekend, and a glorious Lord's Day.
Rand
Labels: Friday evangelism