Friday Night Notes
Saturday, March 01, 2014
finally... back to work!!!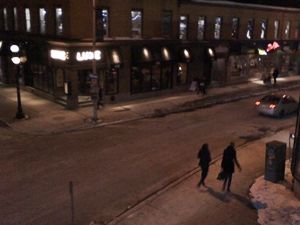 It's been awhile!!! Two weeks ago, I was out on a date with my wife (Valentine's Day), and last week, I was in my study, preparing a sermon for the Lord's Day after a really busy week at work. I'd say it was good to be back at street preaching on a Friday night, but old-man-winter decided to give us one more miserably cold night (-18C or 0F). I was good for about an hour and a half, after that, the shivering started, and the fingers and toes froze. That was no fun.
It was a quiet night of evangelism, with the cold likely keeping people in their homes. Last week (or maybe, the week before) was the end of my city's winter festival, "Winterlude", which probably lowered downtown visitors a lot too. Still, we handed out a good number of Gospel tracts and preached the Gospel to all those who walked by.
After about an hour of street preaching, an old familiar face came by to see me: Scott, from
The Crusty Curmudgeon
, was at a nearby restaurant having dinner with couple of Christian friends, when he heard me preaching the Gospel. It was good to see my old friend, whom I kept up with through his blog, but I hadn't seen him in person for years. It was good to see the years had been good to Scotty (
he hasn't changed much in over a decade... what's his secret?
), and still walking with the Lord, which is really good.
A few minutes after Scott and I parted ways, a woman named Joan and her friend came by and stood across the street, listening to my Gospel preaching. She listened quietly, in the cold, for a few minutes, then began to walk away. I don't know exactly what I said, but I continued preaching and she stopped and said: "You're right!" At which point, she walked over to my side and thanked me for my evangelism. She said she had suffered a serious health issue, and that she figured that was one way the Lord was trying to get her attention. She said my evangelism was the second "call" she was getting from God. I suggested she listen to those calls and get close to the Living God. I gave her a Gospel tract, and she thanked me with tears in her eyes.
A number of Christians walked or drove by us last night, most of which gave us some encouraging words, or a simple "thumbs up". It's nice to see that the grace of God is at work in many in my city. It's easy sometimes to get pessimistic when all you see around you is evil.
The night of evangelism wasn't all old friends and God-seekers unfortunately. The market has an endless supply of troubled and wicked souls. I watched a man, so drugged out of his mind, that he yelled curses out loud to imaginary foes. I saw another man get into a fight with a bouncer near a local bar. Evidence of all manner of immorality was on display as well. The Lord have mercy on this wicked and lost generation.
Remember us in your prayers, dear saints of God...
Rand