Friday Night Notes
Saturday, May 28, 2011
the folly of vain and false religion...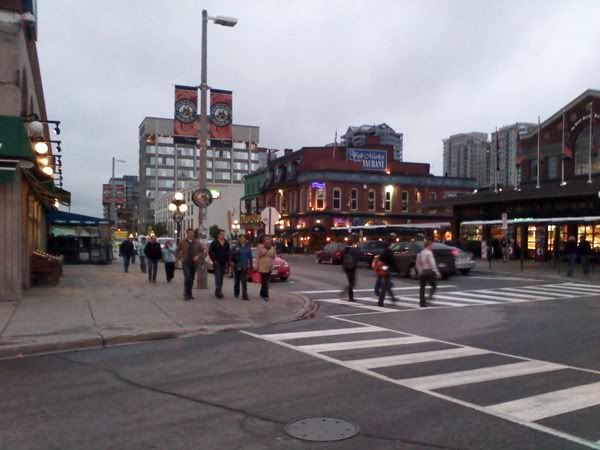 It rained all day, but just around 6pm, the Lord put a stop to it; so Pastor Tim and I got the Bible signs out, and made our way downtown to preach the Gospel of Jesus Christ. Despite the wet, cold weather the market was quite busy
(far more than I would have expected)
. By God's grace, we were able to present the Gospel to hundreds of souls in just about three hours of open-air evangelism. The Lord use our efforts as he sees fit.
Sadly, there isn't a whole lot to report by way of positive outcomes to our preaching. There were a few kind souls that gladly received our literature, and I did have a short conversation with a young man who works at a restaurant just across our preaching spot
(I believe he is a nominal Muslim... please pray that the Lord would use our weekly conversations to save him)
. Other than that, however, it was all pretty bad.
There are nights of evangelism when I really feel just how flagrantly we evangelists stick out, and how absolutely incomprehensible we are to the wicked world around us. People have one look at us and show forth perplexed faces, angry expressions, some curse and blaspheme, others mock and laugh at us. It always reminds me of the section of John Bunyan's "Pilgrim's Progress":
"Now, Christian and Faithful, as I said, must needs go through this fair. Well, so they did; but as they entered into the fair, all the people were moved and the town itself, as it were, in a hubbub about them, and that for several reasons; for their garments were very different from the kind sold at the fair; their speech was also strange since they spoke the language of Canaan. But, most of all the pilgrims took no interest in the goods offered for sale. They would not even look at them, and when called upon to buy, they would put their fingers in their ears, and cry, Turn away mine eyes from beholding vanity, and look upward, signifying that their trade and traffic were in heaven.

One trader mockingly said unto them, What will you buy? But they, looking gravely upon him, said, We buy the truth. At that the pilgrims were taunted and mocked and some even threatened to strike them."

The followers of false religions were out tonight, with all their hypocrisy in plain view. A young Muslim came by after reading my
John 3:36
Bible sign. He immediately told me that he didn't believe Jesus was the Son of God, and wanted to know where that left him. I told him that left him under God's wrath. He disagreed, claiming God was going to save everyone. Then he walked back into the bar he had previously walked out of.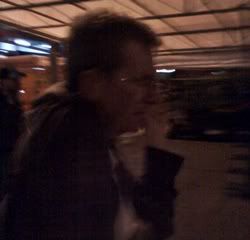 Moment later, both Pastor Tim and I had a wonderful time dealing with this very unhappy Romanist. What exactly was the source of his unhappiness? Why... us, of course! How dare we stand on street corners and preach the Gospel! He repeatedly asked if we thought we were better than the pope... LOL. He charged us with causing offense to other faiths by our preaching, a charge I gladly owned up to!
"Unto you therefore which believe he is precious: but unto them which be disobedient, the stone which the builders disallowed, the same is made the head of the corner, and a stone of stumbling, and a rock of offence, even to them which stumble at the word, being disobedient: whereunto also they were appointed." (1 Peter 2:7-8)
On several occasions, both Pastor and I made it clear to this very angry man that we had no interest in arguing of fighting with him. If he didn't care much for our evangelism, then he would best just walk away. The man wasn't at all interested in letting things go, he was going to show us how wrong and foolish we were, and how the "great Catholic faith" was the only true way. Well, after a few minutes of listening to his folly, I pointed out that he was wearing a big idol around his neck
(some kind of patron saint medallion),
and Pastor Tim pointed out that last week, when he last saw the man, he was so drunk he couldn't walk straight
(yes, the man is a marketplace regular, often walking the streets drunk out of his mind)
. This infuriated the man who slowly, but surely started walking away, clearly angry at being called out for the hypocrite he was, but at the same time, too ashamed to stick around to defend himself. The Lord have mercy on the poor, lost soul.
Finally, before our night of evangelism came to an end, a group of young people walked by. Some were holding jars filled with lollipops, and all were wearing bright uniforms. They were all laughing at me, but one of them asked me if I would support "Shinerama". When I asked the fellow what "Shinerama" was, he replied it was a fund raising effort for the Canadian Cystic Fibrosis Foundation.
"I would love to give whatever change I have to the Canadian Cystic Fibrosis Foundation," I replied.
At that point, all the young people who had laughed at me, were obviously uncomfortable. I never looked at them, nor showed them up, I just gave roughly $2.50 in change that I had in my pocked and took 4 lollipops out of one of the jars they were carrying
(one for each of my children)
. The young man I was dealing with thanked me, not once, but twice.
I found out, moments later, that people who donated to this "Shinerama" had their choice of a lollipop, a hug from one of the scantily clad women involved in the charity, or a condom. Yes, a condom. Those choices weren't explained to me. I wonder why?
How base our society has become. Even charity is now laced with immorality.
The Rapture can't get here fast enough!
Rand
Ps: A sister-in-the-Lord last week e-mailed me with a request that I be more careful in some of the language I use in writing my posts, especially in describing some of the immorality I see on any given Friday. I plan to be to do just that, but please, all of you who read my posts to your families or who post my writings in church lobbies: use some discretion. I see and hear alot of awful and evil things on any given Friday Night
(believe me, many of you have no idea...)
. Some of it will come through in my writing. One way or another. Reader discretion is advised.
Labels: Friday evangelism