Friday Night Notes
Saturday, January 19, 2013
winter wonderland...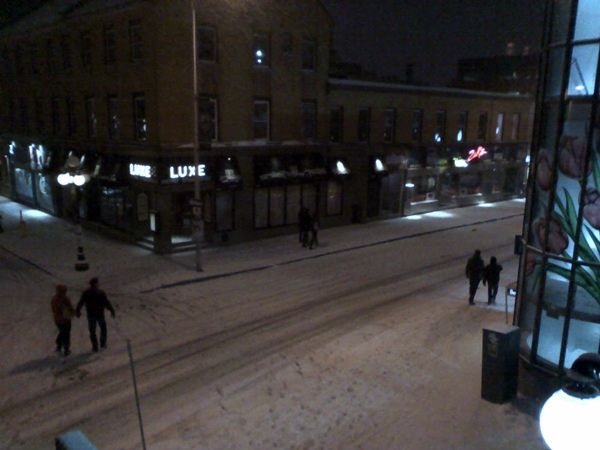 It was freezing cold this morning so I was expecting the worse for our night of street preaching. By evening however, temperature got a little warmer. With our winter gear on, Pastor Tim and I were actually pretty comfortable out there tonight.
As you can see from the picture above, we got a good little snow storm; it started around 8pm and hours later, it was still falling. Fresh snow made the marketplace look... well... rather good. A nice change from the visible filth found in every corner of the market streets.
It was another quiet night of evangelism. I suppose people are still pretty broke from the Holidays, and the snow storm probably kept a lot of people off the roads... either way, in three hours, Pastor Tim and I only ministered to a hundred souls tonight, maybe two hundred. No more than that.
Despite the low turnout, we distributed a fair number of Bible tracts. Pastor Tim had a couple of one-on-one conversations with lost sinners, and everything went more-or-less well. For two straight nights of evangelism, no one knocked down our Bible signs, or attempted in any way to hinder our efforts. Praise God.
I don't really have any other details to write. As already mentioned, it was a quiet night... and I don't mind those from time to time.
Have a blessed weekend, dear readers.
Rand