Friday Night Notes
Saturday, May 03, 2008
folly: sin's offspring...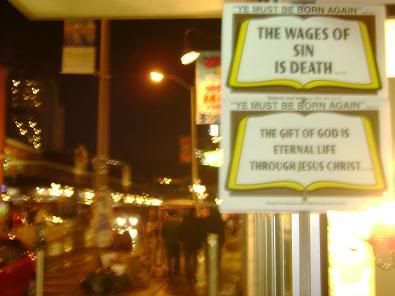 Pete from

MyAllForOne

gave me a call last night and we spoke on how foolish the people of our nations had become in their manners of life. Elements of that conversation came to my mind often tonight, as we proclaimed the Gospel in the marketplace. Pastor Tim and I were treated to a carnival of some of the dumbest, insanest (if that's a word) souls who claimed to know something, but actually, knew nothing at all. We nonetheless preached the unadulterated Gospel of the Lord Jesus Christ to them, most often through a symphony of mockery and insults.
Pastor Tim, oddly enough, was the one who seemed most rattled by the crazies tonight. Usually, I'm the one who gets upset or depressed when faced with the relentless parade of sin which fills the marketplace every Friday night, but tonight, apparently, there was a role reversal. I managed to keep my cool throughout much of the night
(surely, that was a work of the Spirit!)
, while pastor Tim, on a number of occasions, seemed to need a few minutes to cope and re-focus his preaching efforts.
I don't know if pastor Tim would admit this, but I think both he and I are struggling with the present situation in our city, and by extension, country. I mean, it's been terribly bad here in Canada for quite some time, but lately, it's been worse. We hardly give out any tracts on Fridays anymore, and the one-on-one conversations are few and far between; and when we do get into a conversation with a particular sinner, it usually turns out to be vain babblings. The Bible says: "
Hope deferred maketh the heart sick" (Proverbs 13:12a)
. I think both pastor Tim and I are getting a bit heart-sick. We most certainly aren't going to give up, but to deny that we are in heaviness and sorrow over the present spiritual state of our land... well... it would be quite a lie.
I don't think I gave out more than 10 tracts in the 3 hours of preaching that we did tonight. I know that those 10 tracts could save many souls, but all the same, it would have been nice to have given out more. I am praying for a few souls that I clearly remember giving a tract to, hoping that the Lord will be pleased to save them.
In the one-on-one conversation department, there wasn't anything that showed much promise. Pastor Tim and I both dealt with a young lady who claimed to be a Christian, but was going around the marketplace dressed quite provocatively
(she was pretty much walking around in a bra)
. We never said anything about how she was dressed but she complained that our preaching made her "feel bad". Both Pastor Tim and I told the young lady that we were quite glad that she "felt bad". We explained that what she had was a guilty conscience and that she needed to truly repent and trust Christ. She denied this of course, but still, when she walked away, it was clear that she was troubled.
I saw Richard again tonight.
No change, still on the brink of total loss. We need to pray for him.
I also had a conversation with a real, no-nonsense Romanist. When I say "real", I mean REAL! This guy was walking around with some "Romanist Mary" medallion around this neck that surely weighed 5 pounds... THE STUPID IDOL WAS HUGE! All of you who know me know that I couldn't let this soul pass without hearing the Second Commandment. He, like most serious Romanist, made light of the commandment against idolatry, claiming that it was only applicable to the false religions of the Old Testament times. When I asked him where in the Bible he got that idea, he turned somewhat quiet. By the time I was done with the poor soul, he was yelling out at me that I was "anti-catholic"
(which I have ZERO problem with, though, I think he meant that I was anti-christ)
, and of course, anyone who is anti-catholic is out of their minds!
(a statement that made me laugh because years ago, our Romanist priest had told my mother that if she read the Bible and went to a Protestant church, she would lose her mind)
.
The one truly pleasant moment of the night came when an elderly gentlemen walked by me about 15 minutes before we called it a night. I recognized the man almost instantly, though, I don't think he recognized me nearly as quickly. The man had walked just past me, trying hard to ignore me and my Bible sign, but still, I called out: "Mr. Dubé?" The man, shocked, turned around to see how I could possibly have known his name.
"Hello, Mr. Dubé, my name is Rand, you taught me Chemistry and Organic Chemistry at College," I said.
Mr. Dubé then recognized me and he got a whole lot more comfortable talking with me, though I think he was still kind of leery of my Friday night activity. All the same, it was good to go down memory lane with my old teacher for a few minutes. I could tell that he was glad to hear that one of his students was not only doing well in a Research laboratory, but that I had actually gone back to our old College to teach a few classes. You see, this man wasn't just a teacher, he was the coordinator who started the Biotech program I graduated from. The program was "his baby", and he was mighty glad that "his baby" had brought me and others success in the field of science.
I hope Mr. Dubé will ponder on what I was doing in the market tonight. Though we didn't talk about spiritual matters, there's no way he missed the Bible sign I was carrying. The Lord deal with him as He sees fit.
With that, dear readers, I close the notes for tonight. I appreciate your continued prayers. My health has greatly improved, but I wouldn't say I'm 100% yet. Thank you to all of you who have left comments, sent e-mails or even called me from far away. Your kindness has been quite heart-warming. Thank you, dear readers.
Have a good weekend, and a blessed Lord's Day.
Rand
Labels: Friday evangelism