Friday Night Notes
Saturday, January 07, 2012
saved FROM our sins...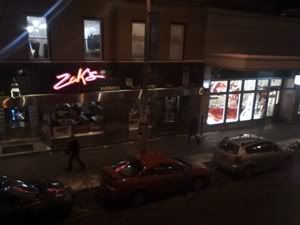 It was good to be back at our post tonight, for our customary night of evangelism in the downtown marketplace. Much quieter than in the summertime, but we still ministered the Gospel of Jesus to hundreds of souls with open-air preaching, tract distribution and holding forth our Bible signs. I trust the Lord was glorified.


Not much to report tonight. Pastor Tim had a couple of short one-on-one conversations with curious souls, I had but one, and it was of the unprofitable sort. I spent most of our last half-hour of evangelism enduring the ramblings, false charges and diatribes of an annoyed guitar playing pan-handler. The wicked soul was unimpressed with our Bible signs and berated Pastor Tim whilst he tried to preach the Gospel. So I suggested to Pastor Tim that he preach a little further down the street, while I offered myself as a target for the foolish persecutor. It was a long, long twenty minutes I have to say. At first I was called a hypocrite, then a hatemonger, a liar, and to cap things off, I was told that I was just looking to be a martyr to satisfy an ego trip
(don't ask how that makes any sense... arguments against the Gospel get pretty wacky when sinners make things up as they go).
We gave out a good number of Gospel tracts tonight. Pastor Tim and I prayed that the Lord would use these throughout the weekend to save the lost.
I thank the Lord for a relatively soft winter night weather wise. It was about -9 Celsius (or 15 Fahrenheit) which is cold, but in Canada, not terrible. I thought I'd be able to make it through the night without heat-packs in my gloves and boots, but that was folly. After an hour in the cold breeze, I sought and found a dry spot in a nearby parking garage where I pulled out a couple of heat packs and threw them in my boots, and two others in my gloves. It did the trick.
Watching many souls walk by tonight, obviously unconverted, I thanked the Lord for saving me. Had it not been for His grace toward me, there would be no difference between the lost souls of the marketplace and myself. Praise God, Jesus died for me!
"Know ye not that the unrighteous shall not inherit the kingdom of God? Be not deceived: neither fornicators, nor idolaters, nor adulterers, nor effeminate, nor abusers of themselves with mankind, nor thieves, nor covetous, nor drunkards, nor revilers, nor extortioners, shall inherit the kingdom of God.

And such were some of you: but ye are washed, but ye are sanctified, but ye are justified in the name of the Lord Jesus, and by the Spirit of our God.

(1 Corinthians 6:9-10)
Rand
Labels: Friday evangelism
1:14 AM
At 9:03 AM,

pregador27 said…
Post a Comment
Permalink