Friday Night Notes
Saturday, May 26, 2012
a sound of abundance of rain... quite literally...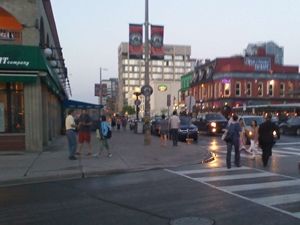 It was just passed 6:30pm when I left my work and began walking toward Pastor Tim's house, for our night of evangelism in the marketplace. I could hear thunder and a few drops of rain fell, but I figured I could make it to the good preacher's house in short enough time, where we would both decide if our night of street preaching was cancelled. I made it about half way when the light rainfall turned noahdic. The rain didn't fall from up to down, it danced from side to side in a strong wind soaking me right to the bone.
By the time I arrived at Pastor Tim's door, I was totally drenched
(Pastor Tim's wife had a good laugh)
. It took 45 minutes to get my clothes dry, though my shoes were hopeless. Anyway, after those 45 minutes, the storm had passed and Pastor Tim and I decided to head downtown for our night of evangelism. I put on my
aquariums
wet shoes, took a couple of Bible signs, and after a short time of prayer, we headed out.
I was surprised with how busy the market was, given we had just had a pretty strong thunderstorm. The place was packed. I began the preaching rotation, while Pastor Tim handed out Bible tracts across the street from me.
The market was extremely loud tonight. It was difficult to preach over all the noise, but we found a way to teach loud enough for people who walked by our preaching spot to hear something of the Gospel of Jesus. I hadn't been preaching for more than 10 minutes when a woman walked by and said:
"I don't believe in God!"
"You will," I replied.
"I don't believe so," she snapped back.
"I know so," I replied again.
She walked away shaking her head, and making sport of me to her friend with whom she walked. Then something interesting happened. Not twenty minutes later, the woman came back and requested a Bible tract from me. Without question, I gave her the leaflet, and she again walked away. The Lord use that little tract as He sees fit in that woman's life.
Moments later, I had a conversation with a group of young women who took exception to the Bible's condemnation of homosexuality. My response, in a nutshell, was: "Tough!" I explained that God's standard was wise, holy, righteous and perfect. I also made it clear that all humanity was sinful and wicked, and that it wasn't up to God to change! I then spoke of the second birth and how God had saved me, and has been saving me for decades now. I knew the women first showed up to mock me, but after my testimony, at least two of the four were completely undone. Again, the Lord open their eyes and grant them repentance, if He wills!
During my second turn at Gospel preaching, I noticed Pastor Tim arguing with a very, very big man. I knew something bad was happening. I quickly walked toward him, cellphone in hand, ready to call the authorities. When I arrived next to Pastor Tim, the man walked away and began arguing with a woman a few yards away. That's when Pastor Tim told me that he had intervened on the woman's behalf; the wicked man had struck her violently, infuriating the good preacher. Pastor Tim took my cellphone and kept an eye on the man from a distance. The woman was no shrinking violet, she too struck the man repeatedly as they argued, but when the man raised his fist against her a second time, he called the police. Unfortunately, by the time the police responded, the man had escaped. What kind of wretched loser hits a woman?
After two hours of evangelism, I knew I was done. It had been such a busy, difficult week at work, by 10pm, I was totally spent. So, I made my way to the bus station, while Pastor Tim decided to continue for a while longer. I trust the Lord has kept him safe and well.
Which brings me to this late hour, and the end of this edition of the Friday Night Notes. Brothers and sisters-in-the-Lord, remember us in your prayers.
God bless you,
Rand
Therefore if any man be in Christ, he is a new creature: old things are passed away; behold, all things are become new. And all things are of God, who hath reconciled us to himself by Jesus Christ, and hath given to us the ministry of reconciliation; to wit, that God was in Christ, reconciling the world unto himself, not imputing their trespasses unto them; and hath committed unto us the word of reconciliation. Now then we are ambassadors for Christ, as though God did beseech you by us: we pray you in Christ's stead, be ye reconciled to God. For he hath made him to be sin for us, who knew no sin; that we might be made the righteousness of God in him. (2 Corinthians 5:17-21)