Friday Night Notes
Saturday, April 14, 2012
getting busier...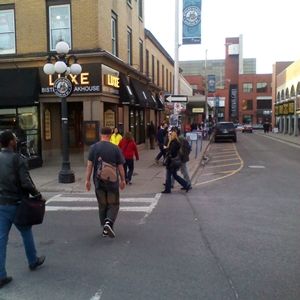 By late evening, it got pretty chilly but without a doubt, spring is here! That will make Bible street preaching a whole lot more comfortable. Spring time will also increase our audience by a whole lot; we easily had four or five times the crowds we had over the winter. As we endeavour to bring the Gospel to these souls, we hope and pray that this year will be a year of revival and awakening in the Capital.
Pastor Tim and I were only out preaching for a little over two hours
(I have an important engagement tomorrow morning, so I needed to be back home in good time tonight)
, but many souls were presented with the Gospel in that short amount of time. Pastor Tim had good one-on-one conversations; one with an ecumenical Catholic, the other with a Muslim woman who sadly, didn't know much about her own religion. I had an unprofitable conversation with a couple of young men who wanted, at all cost, to present the God of the Bible as contradictory and ultimately, the author of sin. I was gracious and attempted to give an answer for the Faith, but seeing that the conversation wasn't going anywhere, I simply walked away.
I can recall two women who, when walking by me as I handed out Bible literature, said a heartfelt: "God bless you! It is really good, what you are doing here tonight." The Lord bless them and reward them for their kindness and love of the Truth. Not too many of that sort in the marketplace on Friday night!
Another unexpected blessing: none of our Bible signs were knocked down, kicked or spat at tonight. That is a rare event indeed. I was really pleased by this break from the usual. You have no idea how it annoys me when someone messes with our Bible signs.
The wicked guitar player was at his usual post, mocking us and disrupting our preaching as best he could. The Lord reward him according to his folly. Despite his best efforts, both Pastor Tim and I managed to present the Gospel to the people who passed by us. For that, we are thankful.
All and all, it was a good night of evangelism. I hope the Lord will give us many other Friday nights like this one in the months ahead.
God bless you, dear readers...
Rand
Ps: Both my wife and I are doing much better, health-wise. I really want to thank all of you who have prayed fervently for us. Your prayers were answered!
Labels: Friday evangelism