Friday Night Notes
Saturday, September 07, 2013
getting chilly...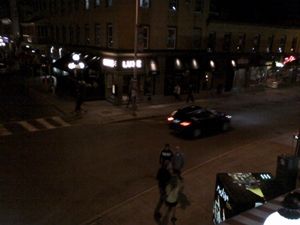 The Fall season is definitely coming! It was quite chilly out there tonight, and that even with two sweaters on. The light rain that fell on us at the beginning of our night of evangelism didn't help our comfort level either. Nothing worse than a wet cold. The cold weather definitely thinned the crowds that are usually downtown on a Friday night; and I suppose that's how it's going to be as we head into another Canadian winter season.
Due to the smaller crowds of sinners, Pastor Tim and I only had a couple of one-on-one conversations, which is a bit of a downer. However, a lot more people were reading our Bible signs tonight, and that's a really good thing; God's Word is the living, incorruptible seed of the new birth. People who are saved, are saved by hearing and reading the Bible. So as far as tonight's open-air evangelism is concerned: The Lord save as He wills!
I spoke with a young man named Pierre tonight. He was a nominal Romanist
(as I once was)
, and asked me to sum up the difference between Romanism and "
my faith
". I explained some of the major differences and he saw the merit of my theological positions. I told him that his nominal faith in Romanism didn't equal saving faith in Christ. I made sure to point out that genuine faith in Christ wasn't just mental assent to the existence of the Person of Christ, but rather, obedience to the Lord. Again, he understood what I was saying, and requested one of my Gospel tracts. The Lord be merciful to this lost soul.
Pastor Tim had to deal with a couple of hecklers tonight, and he never lost his cool, and continued the work of the Gospel. The two men eventually got tired of persecuting the good preacher and eventually left quietly. Lord have mercy on them.
Considering the lower volume of people tonight, we still handed out a decent number of Gospel tracts which is always good. You never know if the Lord will use that tract, at a future time, to save the lost sinner who took it; or perhaps that tract will make it to one of the sinner's friends or family members, and they'll be changed! Who knows, really. The Lord use that literature as He sees fit.
To Him be the glory forever and ever.
Amen!
Rand