Friday Night Notes
Saturday, November 11, 2006
welcome back, preacher...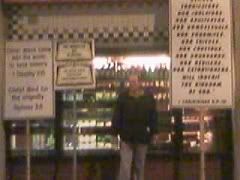 It's been awhile, but I finally made it back to our Friday night of street preaching.
My pastor and I took three Gospel signs with us and made our way to our usual spot proclaim the Truth that is in Jesus. I took the first hour of preaching to test voice/lung capacity and I am happy to report that my voice held up, and I don't think I coughed at all tonight; looks like I'm finally over that nasty infection!
I was a bit rusty at first, but by my second round of preaching, I had found much of my groove again. What a discipline mass evangelism is! I mean I was just out for two weeks, and I was pretty out of shape, both physically and psychologically. By the end of our three hours of ministry, I was seriously drained; but God's Word again refreshed me:
"And let us not be weary in well doing: for in due season we shall reap, if we faint not." (Galatians 6:9)
We distributed a large amount of Gospel literature tonight, far more than usual. That was the upside. The downside is that we were seriously and grievously maligned and reviled by several individuals... and I mean GRIEVOUSLY. Again though, while it is never a pleasant thing to be insulted and mocked, the Bible comforts me:
"For even hereunto were ye called: because Christ also suffered for us, leaving us an example, that ye should follow his steps: who did no sin, neither was guile found in his mouth: Who, when he was reviled, reviled not again; when he suffered, he threatened not; but committed himself to him that judgeth righteously." (2 Peter 2:21-23)
Here are a few events, still lingering in my mind, concerning our time of street evangelism:
1- Explaining the signs:
I had a good conversation with a man of Arabian descent. His English wasn't very good, but we were still able to communicate effectively. He asked me to take him through all our Gospel signs, to make sure he understood every word; I gladly read and explained
1 Timothy 1:15
, and
1 Corinthians 6:9-10
.
The man accepted a Bible tract, and I invited him to church on Sunday. He said he knew of our church since he lived nearby, and that he'd try to make it out on the Lord's Day. I will be praying that he do just that!
2- Spitting on the Lord Jesus Christ:
In the
first chapter of the book of John
, the Lord Jesus Christ is called: the Word. So in a very real sense, what a person does with God's Word, he does to the Lord Jesus Christ Himself. So imagine my chagrin as I watched a young man, who was unimpressed with my preaching, spit on one of our Gospel signs. Without saying a word, the young man then walked away pridefully, thinking he had taken a great stand.
If the Lord doesn't save the poor wretch, I can't even imagine the terror he will feel as he stands before the One he spat on.
3- My friend, Andrew H.
In the middle of my second round of preaching, a man walked by, and then turned around towards me. The second I got a good look at his face, I recognized him. It was a brother-in-the-Lord I use to fellowship with when I attended the local
AGC church
; this would be back in my college days
(a long... long time ago...)
.
Andrew hadn't changed a bit. I mean the man hadn't aged a day. We had a short conversation to catch up on what was happening in our lives, and then encouraged me to keep preaching. He offered to get me a cup of coffee to help keep me warm, but I was actually in good shape with all the sweaters I had on (
lol
).
I thank the Lord that on a night where I was literally swimming in a sea of insults and mockery, He sent me an old friend to warm my heart with words of encouragement and genuine brotherly kindness.
4- The two Muslims and the Buddhist:
Right when I was getting ready to head home, two Muslims came by and asked me questions about my Gospel sign. After answering their questions, one of the men asked:
"Can we come to one of your meetings, even if we aren't Christians?"
"Of course!" I answered.
It was a this point that the Buddhist showed up. He had alcohol on his breath, so I knew that I wasn't going to have to deep of a conversation with this man. I did however have the opportunity to share a bit of the Gospel with him, and answer some of his questions. Sadly though, in very little time, the conversation became a vain discussion on the different views and practices of each of our faiths. It was all pretty vain, and wicked, so I made sure to put a stop to it with a: "Well, have a good night gentlemen, and remember to read the Bible."
And that's the notes for tonight. I again thank the Lord my God for giving me the opportunity and ability to serve him by proclaiming the Gospel of peace to hundreds, if not thousands. I also pray for my brothers and sisters who, God willing, will do the same tomorrow in Quebec; God bless you guys.
Good night, dear readers...
Rand