Friday Night Notes
Saturday, April 18, 2009
the trying of Rand's faith...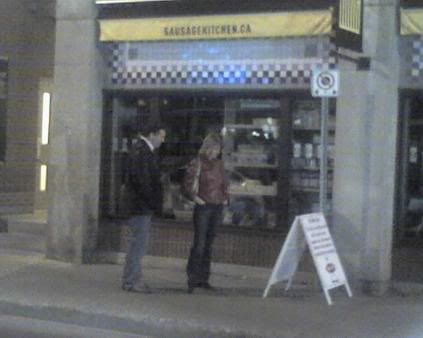 After all the nonsense that took place last week

, you can all well imagine, dear readers, that I spent the week praying for, at the very least, a "quieter" night of street preaching. Praise God for answered prayer!
My shaky confidence was tested from the very "get-go" though. When I got to pastor Tim's house, his wife told me that he would be late, so I would be going out "tout seul"
(that's French for "all by my little lonesome")
. I snickered and said:
"Alright, Lord."
So I had a look at pastor Tim's collection of Bible signs... the two that were easily accessible were
John 3:16
and
1 Corinthians 6:9-10
. The
John 3:16
sign was large, the other was much smaller. I opted to go with
John 3:16
, since
1 Corinthians 6:9-10
has a tendency of riling sinners up, and that's the last thing I wanted tonight. So I started up the street with the big
John 3:16
sign when a strong wind blew. The drag on the sign was so strong, I couldn't move forward... at all! I again snickered, and said:
"Alright, Lord."
I went back in pastor Tim's yard, put down the
John 3:16
sign and took up the
1 Corinthians 6:9-10
sign. I then paused, asked God to have mercy on me tonight, and made my way downtown. I preached the Gospel there for well over an hour, and had a long conversation with a group of young people who were up to no good in the market. I shocked them all with answers like:
"No, God doesn't love everyone the same."
"Yes, homosexuality is a sin, and yes, a man/woman can have victory over this sin."
"Yes, your priest is lying to you."
"No, you are not a good person."
My answers definitely shook these young people, but the fear of the Lord was definitely lacking. They eventually shrugged me off and went on their way. The Lord have mercy on them, and cause them to consider the truths they heard tonight.
After my first hour of preaching, I took a walk downtown with my Bible sign, offering tracts to whoever would take one. I met up with the Open-Air Campaigners, another group of street evangelists, and my good friend, AND brother-in-the-Lord, Alex. Alex really refreshed me with some godly encouragement... it was really good to be in the company of a friend for a few minutes. After a little time with these brothers, I made my way back to the heart of the marketplace, where pastor Tim was now preaching.
Lots of people were out in the market tonight. The warmer weather brought thousands to the market, so pastor Tim and I worked hard to present the Gospel to as many of them as would listen. I gave out lots of tracts tonight, many souls carefully read our Bible signs
(as you can see in the picture above)
, and both pastor Tim and I had a few conversations with sinners. I also had the chance to speak to a student who used to work with me in the lab
(my secular job)
. She told me she believed in the Gospel and that she would like to visit my church some time. I hope she does.
Soon after this conversation, pastor Tim and I made our way home, and thus ended a quiet, smooth night of street preaching
(as quiet and smooth as it can get anyway)
. I thank the Lord for his mercy and grace toward me.
And that, dear readers, is tonight's Friday Night Notes.
-------------
Now, about last Friday...
First, I want to thank everyone who sent me kind words of encouragement over the last week. You all know who you are. The Lord bless you and cause His face to shine upon you.
Second, Jake was correct. It was foolish of me
(even in my messed up frame of mind)
to equate fear with cowardice. While fear can instigate acts of cowardice, it can also be a catalyst to acts of courage, even great courage.
Third, the question pride... I am, of course, very obviously guilty. I appreciate that none of the brothers and sisters-in-the-Lord who wrote me over the last week made any direct mention of my obvious sin. I'm glad you let me see it for myself. The fact of the matter is that
I
(and note the "I" here)
would love to be strong and intimidating to keep our enemies at bay.
I
(again, take note)
would love to keep wicked men from breaking our property.
I
(again)
would love to effectively defend my brother(s) while preaching in the open-air.
I
(you seeing a pattern yet?)
would like to be able to count on me and for others to count on me to get the job done well and safely. Thing is, that would be a whole lot of faith and glory to "
I
", and not to
God
.
Don't worry, I see the problem with that.
The Lord be merciful to me and patient with me...
But he that glorieth, let him glory in the Lord. (2 Corinthians 10-17)
Rand
Labels: Friday evangelism