Friday Night Notes
Saturday, March 19, 2011
doing right in their own eyes...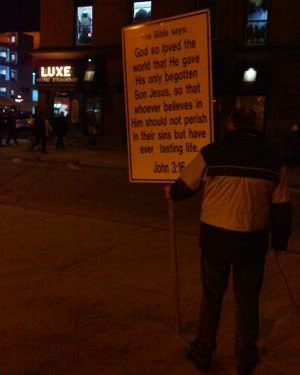 Spring may be just around the corner, but I assure you, it's still cold in my corner of Canada. Pastor Tim left his hat and gloves at home when we took off for the marketplace, and that's a decision, I suspect, he spent the rest of the night regretting. Still, despite the frigid breeze that blew through downtown, the good preacher and I soldiered on and preached the Gospel of Jesus Christ to hundreds of souls walking the streets of the market.
We were out there for over three hours tonight and while we handed out a good number of Bible tracts, the blasphemies that were uttered by many in our audience, throughout our time of evangelism, was very grievous. Men and women, young and old, drunk and sober, from all kinds of nationalities... all of them joining an ungodly chorus:
"(Bleep) God! (Bleep) Jesus! You (bleeping) Christian hypocrites!"
one man cried out to the joyous laughter of those around him.
"
I'm not ashamed,
" one woman said, "
I love to sin!
"
There was alot more, but most of what I heard tonight is so vulgar, so obscene that I cannot, and will not even put up a censored version on my blog. I was nasty. I couldn't shake the thought while I was at our street preaching spot: "What a frightful judgments awaits these wicked souls."
A good man out of the good treasure of the heart bringeth forth good things: and an evil man out of the evil treasure bringeth forth evil things. But I say unto you, That every idle word that men shall speak, they shall give account thereof in the day of judgment. For by thy words thou shalt be justified, and by thy words thou shalt be condemned. (Matthew 12:35-37)
After an hour of evangelism, two young men walked up to me and thanked me for my service. Both professed to be Christians; I believed one of them, but not the other
(he had a bunch of piercings in his face and generally looked very worldly)
. They said they attended the Metropolitan Bible Church, the largest evangelical church in my city, and after speaking with them about people I knew at that church, it was clear that both men truly attended that church. The young men didn't stick around long, but I did get some sad news from them: the pastor of their church was recently diagnosed with cancer. Brothers and sisters, let us add Pastor Rick to our prayer lists.
An hour later, I had a longer one-on-one conversation with a young lady who said she had seen us on a number of occasions, and wanted to know what we were all about. I explained that what we were doing was no different than what the apostle Peter did 2000 years ago, after Pentecost. She understood, and while she appreciated the logic and reasoning behind our efforts, she was obviously a Romanist and quite the ecumenical one at that! On a number of occasions she tried to argue that ultimately, all major religions were the same. I of course objected but sadly, the young lady didn't give me much time to state my arguments. She took off with her friend and promised that she would return sometime to speak further with me. The Lord's will be done.
Pastor Tim had a pretty intense discussion with a drunken homosexual. We see this man every week, and every week he walks out of a nearby bar, so intoxicated he had trouble walking straight. Well tonight, the sad soul had it together enough to try to justify himself to Pastor Tim. Poor fool, that didn't go to well for him. I was a few yards down the street so I didn't hear how the whole conversation went, but I did hear Pastor Tim say:
"You've got a whole lifetime of sin separating you from God, and if you don't have Jesus saving you from those sins, you're going to be condemned forever."
It was shortly after that conversation that we decided to call it a night and head home; we had been at it for over three hours. I was dead tired, and while Pastor Tim wouldn't admit it, I think he was pretty frozen.
Remember us in your prayers, dear saints. Remember Pastor Rick also. Have a safe weekend and a blessed Lord's Day!
Rand
Labels: Friday evangelism