Friday Night Notes
Saturday, June 02, 2007
good start... terrible ending...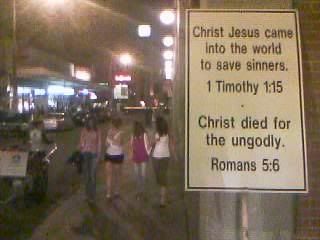 The weather reports all warned an impending "severe thunderstorm". By 7:30 pm though, there wasn't a drop of rain, nor were there any thunder or lightning. So, knowing full well that we were probably going to get caught in the middle of a thunderstorm in the marketplace, we went out street preaching. Too many times we trusted the weather reports, and too many times, we scratched a perfectly good night of Gospel preaching.
The night started off pretty well, and I'm not just referring to the lack of a rain storm. Remember this guy from the notes I posted a couple of week's ago...
"Imagine a street beggar so exasperated by the preaching of the Word that he began to slam his head into a metal door. Repeatedly. He cursed and blasphemed while he... slammed his head into a solid door."
Well, he's the first soul who came by to talk to us tonight. He was strangely, or surprisingly, quite coherent; and no, he didn't bang his head against anything. He said:
"Look guys, I believe in God... though I find it hard to believe in Him sometimes, but that's not the point... I guess I just wanted to say... that I'm not a loud-mouth jerk, and I'm sorry I gave you both a hard time there last time... it won't happen again."
I couldn't believe my eyes or my ears. A preacher gets pretty cynical sometimes; especially when dealing with some of these street beggars. Instinctively, he gets kind of hardened to the plight of these souls since the overwhelming majority of them are so far deep into wickedness, so messed up by whatever substance they are abusing. He starts seeing them as a complete lost cause, and hope of seeing anything good come from them quickly dissipates.
And then something like this happens.
My pastor and I told him that we appreciated his words and we all left each other with a kind "goodnight". The Lord be merciful to him.
Things quickly degenerated after that I'm afraid. A couple of other street beggars tried there best to intimidate us into leaving tonight; efforts that ultimately failed, but they were quite the aggravation. Then, there was the usual chants: "we love Satan", "you've been brainwashed", "you need a sex life", "God is dead"... and other "pleasantries" that I will most definitely not share with you here
(I regret that I have such phrases in my head... I won't infect yours with such vileness)
.
Sadly, things weren't just bad on the side of the ungodly. This street preacher malfunctioned again tonight. A beggar asked me for some money as he walked by me and I said: "I'm sorry I don't carry money on me when I preach down here." And that, dear readers was a 100%, pure, bold-faced lie. Not only have I had money in my pockets on past endeavours, I had money in my pocket this very night. I don't know why I said that. The man didn't intimidate me in the least, and it probably would have been good for me to deal with him by explaining why I wasn't going to give him any money; but instead, I lied. I actually called myself "an idiot" two seconds after I spoke. This may seem somewhat trivial to some of you, but I really, really hate being good at lying. I never want to get used to it.
Anyway, I tried to go back and speak to the beggar to try and share the Gospel with him, and make it known that my last answer wasn't right, but he had no time for me. If I didn't have any money for him, he wanted no part of what I had to say. So, I guess I'll have to call myself an idiot a few more times. This wasn't my only wickedness tonight
(not by a long shot)
. All and all, this has been a pretty crumby night, spiritually speaking, and what's disappointing is that Friday nights are usually the times when I feel I am most faithful to the Lord. I need to shape up...
The night wasn't a whole waste. The Gospel was preached, Bible tracts were distributed, conversations were had, and I have no doubt that the Lord could use the work that was done tonight despite the sad state of this preacher. I just wish I could truly honour my God by being more meet for His use. You know, be more of a Nehemiah or Ezra, less of a Jonah or a Solomon.
Please pray for me, dear saints. I need the Lord to give me the will and the power to do for his good pleasure; and I need to work out my own salvation with fear and trembling.
"Wherefore, my beloved, as ye have always obeyed, not as in my presence only, but now much more in my absence, work out your own salvation with fear and trembling. For it is God which worketh in you both to will and to do of his good pleasure." (Philippians 2:12-13)
Have a good weekend, dear readers, and have a blessed Lord's Day.
Rand
ps: two hours into our evangelistic effort, it started raining... hard.
Labels: Friday evangelism