Friday Night Notes
Saturday, June 16, 2007
the fear of the Lord… or lack thereof…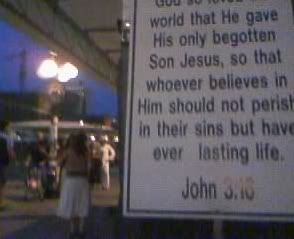 It's been, and continues to be, one fantastically busy week. Leading the Christian Children Soccer Club, preparing my Sunday School lesson and a sermon for the Lord's Day Evening Service, and add a scientific conference to the mix along with helping my father install a hard wood floor in his house… I'm exhausted!!!
As I made my way to the marketplace, I felt I was like a dream, you know the kind where you feel like you are out of your body and get to watch you act. The market was full and loud tonight, which I believe only accentuated the "surreal" feeling I was already experiencing. I was out for only 2 hours tonight, since I needed to hit the road back to my hometown, where my dad awaited with lots of home renovation work.
In those two hours, I got to, once again, behold those who fear not God throw themselves into all manner of destructive sin: immorality, drunkenness, revelry, covetousness… etc. The fear of the Lord was definitely the theme of my night. When Collin came by tonight
(the parking garage superintendent I have witnessed to before)
, I realized after talking with him for awhile that like King Agrippa, Collin had a measure of the fear of God in him, but not the kind the would save him. It's a, for lack of better word, a "natural" fear of God. Poor Collin has enough fear to keep him from drunkenness and many other types of folly, but when it comes to immorality, he just loves it more than God. Pure and simple.
Then I had a short conversation with a very mild mannered man who asked me this:
"Why would God condemn me for simply not choosing to believe in His Son?"
"Why would a judge condemn you for committing a crime in this country?" I responded.
I then explained that the reason for the condemnation was that a law was broken. I showed him that the Lord commands us to repent and believe on Jesus; it's not invitation or a suggestion, God commands it
(Acts 17:30; John 3:18)
. This answer satisfied him, that much was clear. He then confessed that his problem was that he didn't fear the Lord. To that I replied:
"Yeah, that's right, and the only way you will ever truly fear God is if He saves you. God puts His fear in those He saves, it's a gift, it truly is."
Our conversation was unfortunately cut short due to the ranting and raving of his friend who wanted no part of what I had to say. I truly hope that the little I shared with this gentle soul will cause him to seek God with all his heart. God promises salvation to all those who do just that.
"And ye shall seek me, and find me, when ye shall search for me with all your heart." (Jeremiah 29:13)
I've had a number of people bless me tonight, which was a refreshing change to the chorus of blasphemies and mockeries I usually put up with. Oh, don't worry, the mockeries and hateful words still outnumbered the blessings 10 to 1, but I rarely get one "God bless you" during my usual three hours of preaching. So I thank the Lord for this grace. All and all, tonight was a good night
(as much as preaching the Gospel to the godless in the market can be good)
. I was in close fellowship with the Lord by prayer, speaking to him in an inaudible voice as if He were right there beside me
(for I know He was)
. This definitely helped keep my attitude right as I laboured through my preaching in the midst of so much ungodliness.
Praise God for the inner working of the Holy Spirit in me tonight.
One more thing worthy of mention: as I was preaching tonight, a man yelled a very loud "hi Rand!" from across the street. It took me a few seconds to recognize who it was. The man was Sebastien, a fellow I went to high school with. In high school, Sebastien and I never really hung out together; he was in the "in-crowd" and I most certainly wasn't. Despite this social separation, we were always friendly to one another. That is, until about five years ago. What happened five years ago? Both Sebastien and Carl (another high school buddy) first saw me preaching the Gospel downtown. If memory serves, they both yelled out some not too pleasant words at me and walked away.
Then, about two years ago, I met up with both Sebastien and Carl, yet again, during one of my Friday night evangelistic efforts. This time though, I didn't let them run away from me. I walked right up to me and said "hello!". I didn't give them a hard time over our last meeting, but instead I attempted to show them that I hadn't gone mad or weird; and much to my surprise, it worked. We had a great talk and I actually managed to be a good witness to both men.
So it was good that Sebastien yelled out a greeting tonight. He could have ignored me, he could have gone back to mocking me, but he didn't. I pray that both Sebastien and Carl would one day seek the God of their old buddy, Rand.
With that, I close the notes for this week. I have to be up early tomorrow to work with my dad, and then prepare for the Lord's Day. Remember me in prayer, dear saints.
Lord bless you all.
Rand
Ps: the picture at the top of this post isn't really clear (and it's probably a good thing), but what you are looking at is my Gospel sign on the street corner where we preach, and just around that corner there were men playing these "jungle drums" while a woman danced lewdly in their midst. I thought the contrast was worthy of a picture.
Labels: Friday evangelism