Canada Day
Tuesday, July 01, 2008
preaching to the dead...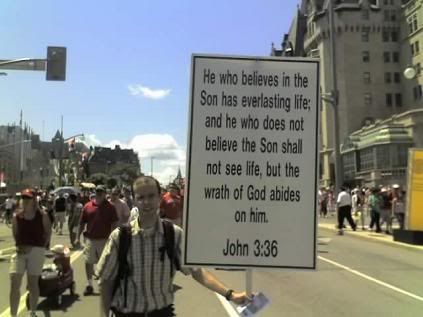 I made the mistake of listening to the news on the radio this morning. Just before making my way downtown to preach the Gospel to those who would be celebrating Canada Day (the Canadian equivalent of the 4th of July), I heard this:
"The Governor General of Canada has opted to honour Henry Morgentaler with the Order of Canada..."
. My heart sank, and then I felt nothing but a deep loathing for my country. You see, Henry Morgentaler (for those of you who don't know Canada too well), is a 'doctor' who challenged the anti-abortion laws in Canada and won. He and his 'clinics' are responsible for the murder of thousands, if not millions of infants in Canada. With fresh in my mind, I went off for a day of street preaching.
I had to pray... seriously pray to get over my frustration and anger. I didn't want to evangelize with a "now-you'll-get-it" attitude, nor did I want to get so discouraged as to develop, over time, a "to-Hell-with-all-of-you" attitude. In the end, I think my preaching was balanced and appropriate; I preached on sin, repentance, Christ's substitutionary sacrifice, and the eternal state, and then I preached against my wicked country:
"The Bible tells us that the wicked shall be turned into Hell, and all the nations that forget God. Well, Canada is full of the wicked, and Canada has forgotten God. This nation is ripe for God's fierce judgment. Hell is prepared for nations like Canada. So today my friends, are you part of the problem, or part of the solution. Will you continue to do wickedly before God, and reap the Lake of Fire, or will you repent of your sins, and come to the Saviour, the Lord Jesus Christ?"
My preaching, for the most part, was met with a quiet hatred, and occasionally, loud mockery. My fellow Canadians have nothing left of the fear of God. They have no significant Biblical knowledge, they couldn't care less about anything that even looks like holiness/godliness, and their lives are full of sin and vanity; and they love it that way. I was effectively preaching to the dead today, for the most part.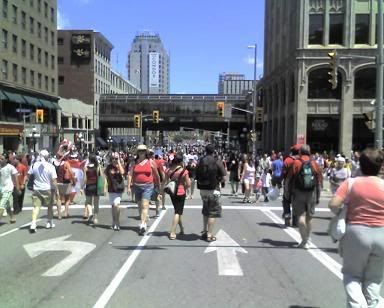 This said, amongst the thousands souls downtown today, the Lord undoubtedly had a people. Those who were already converted were out distributing Bible literature, and those whom the Lord was drawing to Himself came to us, and received something of the Gospel of Christ. There were believers from local Brethren churches, Associated Gospel churches, and Baptist churches; all labouring for the Gospel's sake.
Pastor Tim was unable to come with me today, since his family had organized a big party for his 40th wedding anniversary. I thought I'd have to labour alone all day, but the Lord had mercy, sending me a fellow labourer. Jean, a young lady that worked with me at the research institute, came out with me and was my evangelistic companion for a good three hours. I would like to send out a public "thank you" to Jean, for her help and I pray that the Lord will continue to use her as a faithful evangelist.
Jean and I handed out lots of Bible tracts today, and countless souls read my Bible sign. I had a few short one-on-one conversations with sinners, but nothing significant enough to share in this post. I did have a long conversation with Constable Koch, a police officer patrolling the downtown area during the Canada Day festivities. Constable Koch, or as I know him, Peter, was actually my lab partner years ago, at a hospital laboratory. He left the world of science to become a police officer
(I sometimes wonder if the prospect of working with someone like me for life sparked his departure from the scientific world)
. It was nice to speak to an old friend, and I hope that seeing each other again will stir up some memories for my friend Peter; I've put in a lot of hours of witnessing in him... lol.
I had another conversation with another authority figure, of sorts. As I was distributing Bible tracts in the middle of a main downtown street (the street was closed to traffic), I noticed the unimpressed glares of a couple of city by-law officers, or 'police-want-to-be's", as I call them. They stood there mumbling to each other for a few minutes, then they pulled out their cellphone and talked with some city grand-puppa, and finally, they walked towards me and said:
"I just called our headquarters, and we'd like for you to move to the side of the road," the man said.
"Well, I don't understand," I began, "the road is closed, there is people all over the street, there are vendors of every kind right in the middle of the road, so... I fail to see the problem here."
With that plain statement, I had them... and they knew it. The young man was at pains to try to explain to me why my presence in the middle of the road was illegal, when so many others right behind me were doing the same. He couldn't well say: "Well sir, I just really hate the Gospel, so I want to rob you of your rights and freedoms to rid myself of you." After listening to his pathetic attempts to get rid of me, I said:
"I'm here for another 25 minutes, then I'm gone. Why don't we just leave each other alone for that long?"
He agreed quickly, and left me alone. This whole episode isn't too uncommon for street preachers. In western democracies, it is difficult for the authorities to outright rob you of your rights, but that certainly won't stop them from using I-N-T-I-M-I-D-A-T-I-O-N. Does not the Lord tell us to be
"wise as serpents, but harmless as doves"
?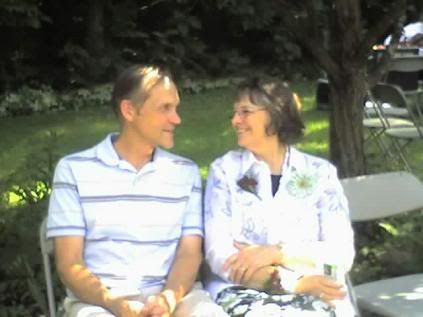 After 4-5 hours of open-air evangelism, I was done... and I mean DONE. I made my way to pastor Tim's daughter's house to join the anniversary celebrations. It was nice to leave a worldly, mostly wicked party, and spend some time with faithful believers. Pastor Tim's family all took turns praising and thanking him and his wife for their love and faithfulness, it was a really sweet time.
Finally, dear saints of God, I want to thank you all for your prayers. Physically, I felt pretty good all day today. I thank the Lord for His mercy and grace toward me.
Dear readers, thanks for keeping up with my evangelistic escapades. Even when I go out preaching by myself now, while I know that the Lord is with me, I also know that I have many souls who are thinking about me, and praying for me.
God bless you all,
Rand
Labels: Friday evangelism