Friday Night Notes
Saturday, November 29, 2008
bringing out the worse in people...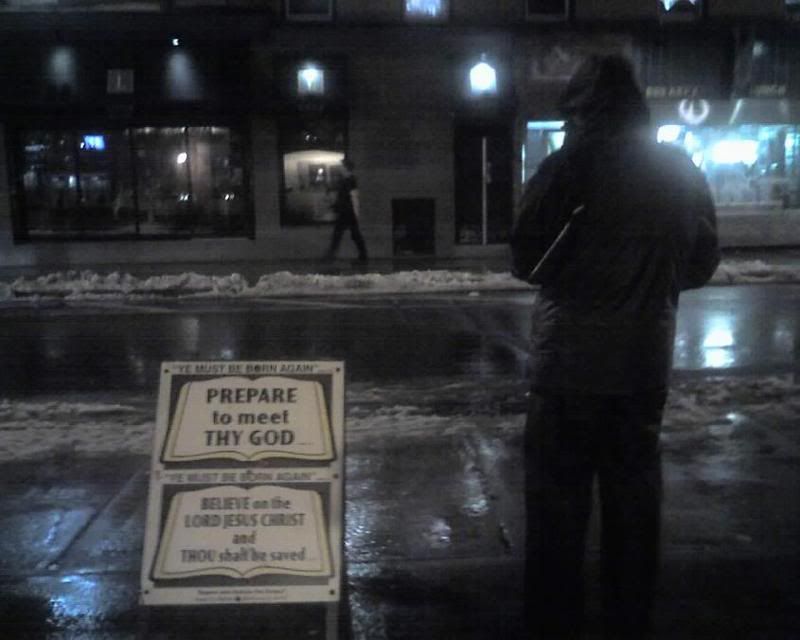 It was definitely a wet night, but thankfully, it really wasn't all that cold; and despite the soggy weather, pastor Tim and I preached the Gospel for a good 4 hours. The Lord use our labour as He sees fit.
Handing out Bible tracts in wet weather is always a challenge, but we managed. The reception to our preaching was rather cold tonight, with most mocking us and blaspheming the Holy Name of God. I mentioned to pastor Tim just how much I hated hearing some of the disgusting blasphemies sinners utter during our customary night of evangelism and to that he replied:
"You know, we get upset when we hear such vileness for a few hours, from a handful of souls... can you imagine the things God must hear every moment of every day from the mouths of the wicked!"
After thinking about this for a couple of seconds, I could only say: GOD IS MERCIFUL AND LONGSUFFERING!
A few souls blessed us with kind words as we laboured, but for the most part, we were despised. From the Muslim who couldn't accept that God would let His Son be tortured and killed
(I have to admit that the fact still astounds me!)
, to the drunkard who tried his best to keep us from preaching by shouting loudly, to the man who said he wanted slap pastor Tim, to the many, many souls who declared their love for sin and the devil himself; well, it was all pretty miserable.
Through it all though, I thanked the Lord for keeping me in-line and helping me keep a proper, prayerful attitude. All night I meditated on these Scriptures as I evangelized:
"And let us not be weary in well doing: for in due season we shall reap, if we faint not." (Galatians 6:9)
"My soul, wait thou only upon God; for my expectation is from him." (Psalm 62:5)
"But they that wait upon the LORD shall renew their strength; they shall mount up with wings as eagles; they shall run, and not be weary; and they shall walk, and not faint." (Isaiah 40:31)
I memorized these verses this week simply by listening to Scripture Songs on CDs I bought a few weeks ago from a Canadian website (I highly recommend the CDs, check them out at
http://www.scripturesongs.com/
). It was great to think on those passages in the midst of such insanity and ungodliness.
With that, dear readers, I close the notes. I'm exhausted and I can't think straight enough to write anything more.
Continue to pray for us, dear saints of God.
God bless you all,
Rand
Labels: Friday evangelism