Friday Night Notes
Saturday, January 10, 2009
oh yeah... I'm a wuss...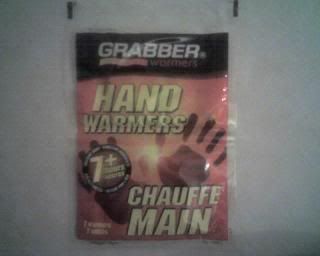 These are the little wonders I mentioned in my last Friday Notes. Did I mention that I LOVED THEM! 'Cause I do. Alot. For the first time in January, I walked away from our customary three hours of street preaching without the pain and discomfort of frozen toes and fingers. I still felt somewhat cold (it was -18 C or 0 F), but the combination of exercise and the heat packs kept us going in relative comfort. Brother Marcel... you asked me about this packs last week... well... I believe I will have a gift for you at the end of the month when we both see each other for the annual business meeting.
Pastor Tim first mocked me when he saw me breaking out the heat packs; he insinuated that I was a wussy
(I really should bring this up at our next church meeting... I think discipline is in order)
. For the record though, when I offered him an extra pair of heat packs that I brought with me, he didn't turn them down; and after two hours of street preaching, he said he was pretty impressed by my little wonders. Wussy... hah!
Anyway, we preached and distributed Gospel literature from 7:30 pm to 10:30 pm in the marketplace tonight to a somewhat larger crowd than last week. The market was still fairly quiet, but still hundreds of souls heard something of the Gospel of the Lord Jesus Christ. We didn't give out to many tracts and had but a few short conversations... which is what usually happens when the temperature drops down near -20 C (-4 F).
I did have a short conversation with two young men who were quite impressed that the Gospel tract I was handing out was written by my pastor. They each took a tract and thanked me for being there. I also spoke to a young man who walked up to me and asked:
"Do you do this often?"
"Every Friday night," I answered.
"Every Friday!" the young man exclaimed. "For how long?"
"About three hours, usually from 7 pm to 10 pm," I again answered.
"That's a lot of devotion," the man remarked whilst walking away.
"Well, the Lord has been good to us," I replied.
A short time later, I saw a young couple looking over our
1 Corinthians 6:9-10
. They were both quite offended by it
(never ceases to amaze me how the Scriptures are an affront and a scandal to carnal men and women)
. The man with a shocked look on his face said:
"What? Is that really in the Bible?"
I shouted the Scripture reference to the man and told him he should look it up. Unimpressed, both souls walked away.
Just before leaving the market, I saw Dave, a student that worked in my lab this summer
(my secular job)
. I don't think seeing me with a Bible sign in my hand shocked Dave all that much since everyone at my work is well aware of my Friday night activities. That said, the young lady who was accompanying Dave didn't seem all that impressed with me, so I didn't keep him. I still kind of wish I would have spoken to him of the Gospel...
Our night of evangelism done, pastor Tim and I walked back to his place for a short time of prayer where I prayed for safety on the way back home, and I thank the Lord my God for His protection. Black ice covered all the major streets and I drove by two multi-car-pile-ups. At one point, I had to break pretty suddenly and the car behind me came real near to hitting me. It was quite a drive back.
That's the notes for tonight. Thank you again, dear readers for keeping up with my street preaching adventures. Dear saints of God, I still covet your prayers.
God bless you this weekend,
Rand
"If ye be reproached for the name of Christ, happy are ye; for the spirit of glory and of God resteth upon you: on their part he is evil spoken of, but on your part he is glorified." (1 Peter 4:14)
Labels: Friday evangelism
12:29 AM
At 2:32 AM,

Marcel Longchamps said…
Post a Comment
Permalink