Friday Night...Pictures!!!
Saturday, April 16, 2005
here we are in all our "glory"...
Some people have their customary bar stool...Rand here is on his customary preaching spot.
My pastor with old "Excalibur" next to him...hee hee! Our 1 Corinthians 6:9-10 gospel sign is by far the sign that brings us the most reaction from the unbelieving.
Here's old Rand offering a Gospel tract to these ladies (if memory serves, they turned down my offer). Oh! the reason I'm looking away is I'm actually preaching to people across the street here.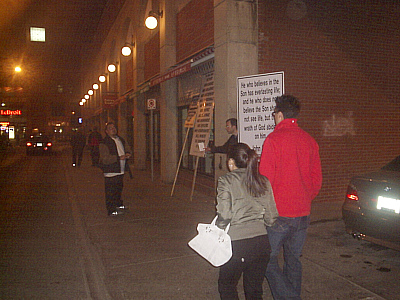 Again, offering a tract, though this time, the young fellow reading the Gospel sign (brown jacket) took my offer. We had a long enough conversation. He's a Romanist, though nominally. He was kind of surprised (like so many others) that "homosexuals" were in the list of sinners, in 1 Corinthians 6:9, who would "not inherit the kingdom of God". In our conversation, he asked me why I had left Romanism; I showed him Exodus 20:4-5 and told him that that was only one of many reasons why I left the wicked religion. He was shocked! He just said: "Whoa! It couldn't be any clearer could it?" I answered: "No, no, it couldn't!" Pray that the Lord would do something with this young man.
My pastor's turn at preaching at "the spot".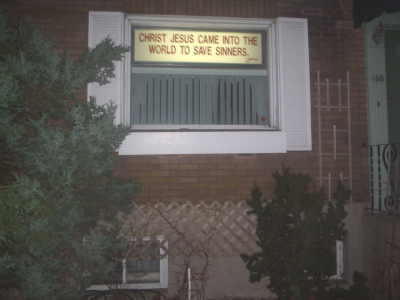 You got to love this! This is my pastor's house, where we start our street preaching, and where it ends. But you see, my pastor's evangelism continues throughout the night with this lit up gospel sign in his front window. Talk about dedication to the Great Commission!
* * *
Okay, now for the notes:
The night started off great, but ended terribly! We preached for over 3 hours and we had quite a crowd to preach to! Looks like the warmer weather is bringing more and more people to the marketplace.
In the first hour, I was approached by 2 families, and two men. All of them interested in our ministry and even attending our coming Lord's Day service! I also passed out a large amount of Gospel tracts which really encouraged me.
But then things kind of went sour. For the next 2-3 hours we were harassed by a violent man (who was either psychologically troubled or had a demon), we were flashed (yes, she took her shirt off) and cursed at by a woman who really took exception to our 1 Corinthians 6:9-10 sign, and I was treated numerous times as a clueless dumb-dumb (and let me tell you that keeping my pride in check under those circumstances was quite a chore).
You know, sometimes this ministry really wears on a man. It's like the frustration you feel when you try to build something, and no matter how hard you try, it just isn't happening. I know I shouldn't complain, after all, the Lord kept us safe, he did provide me with one good hour, and who knows what wondrous things he may yet accomplish through our endeavour tonight. I'm bad, I know.
Anyway, it's extremely late, and I have lots to do tomorrow, so good night dear friends,
Rand
Labels: Friday evangelism