Friday Night Notes
Saturday, August 16, 2008
sorry for the delay... it's been quite a 24 hours...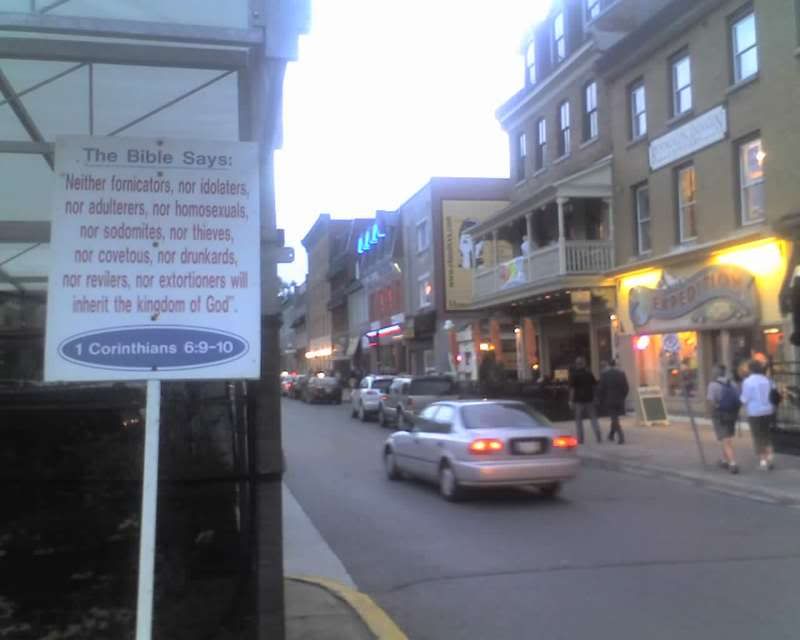 Boy! Oh boy! What a long night!
My original plan for last night got me home earlier from our night of evangelism; I had planned to start our usual evangelistic effort by myself around 5:30pm, have pastor Tim catch up with me around 8pm, and then take off for home around 9:30pm, leaving pastor Tim to do some solo work until 10:30-11pm. Well, around 5pm, I was quickly reminded of Proverbs 16:9...
"A man's heart deviseth his way: but the LORD directeth his steps."
At 5pm, I went out to my bicycle
(I started riding my bike to work... don't laugh... the bike is quite good on gas...)
to make my way to pastor Tim's house and that's when rain started gently sprinkling. Seconds later, the sprinkle turned into an all out downpour, and a couple of seconds later, hail started coming down! I managed to get back into my workplace before getting completely soaked.
Back in my office I dropped down on my knees and prayed that the Lord would stop the rain to allow pastor Tim and I the opportunity to go out preaching. After 20 minutes of praying, the rain was subsiding. I thanked the Lord and started making my way downtown.
I remember someone complaining in my comment box a few months ago that it was mighty egotistical of me to think that the Lord would effect weather changes for my sakes. Well, if it was just for my sakes, I suppose it would be, but I don't believe it is too far fetched to believe that the Lord would change the weather around to allow two of his saints to go out preaching His Gospel. Quite simply, I believe one of the things God was most concerned with last night in my nation's capital was the work of two of His weak, yet faithful vessels: Tim and Rand.
It was just past 6pm when I make it downtown with a Bible sign, offering to all who passed by me a Bible tract. Just a few souls accepted my tracts but I assure you, EVERYONE read my Bible sign. The reactions toward the Scriptures were very indicative of just how evil Canada has become. For example, while I was speaking with a man who professed faith in Christ, a young woman came by, took one of my Bible tracts just to rip it in half and throw the pieces on the ground. The young man I was speaking with looked at the whole scene with disgust and summarized the event like this:
"That... That is of the devil!"
A short time later, pastor Tim joined me and we started our street preaching rotation, calling on all who heard us to repent and be converted unto God by faith in Christ Jesus the Lord. We had a number of one-on-one conversations where we were able to answer some questions and speak more precisely about the salvation of the Lord. One elderly woman I spoke to said that all the "gods" were one and the same... she changed her mind after I simply asked her which "god" was more gracious and kind: Jesus or Allah? Another man told me he wished he could come to church, but it was just too difficult for him to wake up on Sunday morning because he's out playing music in bars from Saturday night 'till the early hours of Sunday morning... to this I asked:
"When you'll be on your death bed, what do you think you are most likely to say: 'Lord, I wish I had spent more time blowing on my saxophone', or 'Lord, I wish I had spent more time with You?'"
The man paused for awhile and then said that "I had him there!" Here's hoping that being "had" by a street preacher will bring godly change in his life.
After three solid hours of evangelism, I made my way home, looking forward to some well deserved rest. It was 10:30pm when I sat down at the kitchen table of my house, to enjoy a very late dinner; and that's when the phone rang. You have to understand, my phone never rings past 10pm, so I knew that if it was ringing, something nasty was happening. It was my sister and she was grievously sick. She needed to go to the ER and not having a vehicle, she needed her big brother to take care of her. So at 11pm, after 7 hours at my work, and 4 hours doing God's work, I was making my way to the General Hospital Emergency Room to help out my sister.
It was 4am by the time she was re-hydrated and strong enough to walk out of the ER. It was 5am by the time I had driven her and myself home. Now you know why these Friday Night Notes are late!
Here's hoping to have a quieter, more restful night tonight, in preparation for the Lord's Day tomorrow.
God bless you all, dear faithful readers,
Rand
Labels: Friday evangelism