Friday Night Notes
Saturday, November 16, 2013
a couple of helpers...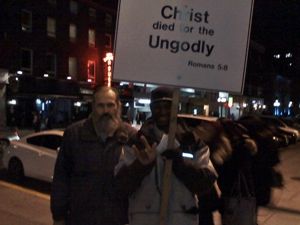 I was late for our customary night of evangelism. I had a major repair to do in the lab, and the hours just flew by. It was about 8:30pm by the time I made it to the market, where Pastor Tim was preaching the Gospel, with the help of a couple of young men.
The man in the picture with Pastor Tim is brother Ovo, a Nigerian-born deaf Christian. He's been staying with Pastor Tim for a couple of days, and insisted on coming out with us for open-air evangelism. For three hours this dear saint stood on a street corner, braving the cold weather with a Bible sign in hand, and offering Gospel tracts to people who passed by him. Brother Ovo puts a lot of saints to shame: there are a lot of believers out there who have no disabilities whatsoever, who are totally able bodied, but who have never labored for the Gospel.
Our other guest evangelist was a young man who visited our assembly last Lord's Day. His name is Daniel and he was quite the encouragement as I preached the Gospel. Daniel held a Bible sign next to me as I preached and ever so often, he'd let an "Amen!" out. You can't believe how refreshing that is when you are used to hearing nothing but cursing and blasphemy when preaching the Good Word.
It was a pretty busy night, all and all. Lots of people were walking around the marketplace, which means a lot of people heard the Gospel. We gave out a number of Gospel tracts and had a few one-on-one conversations, but probably not as many as we'd hoped for when we saw the number of souls in the market. Still...
who know what the Lord will do?
Daniel and I spoke to an atheist who couldn't understand why a deaf man (Brother Ovo) would want to stand on a corner to "preach Jesus". I explained to the man that the Lord had saved Brother Ovo and that was why he was on a street corner, "preaching Jesus". He walked away perplexed and annoyed. He didn't understand. He couldn't understand. The Lord have mercy on his soul.
Lots of people mocked and insulted us. So much that I was kind of glad that Brother Ovo couldn't hear their awful words. He wasn't unaware of what was going on all around him however. At the end of our night of evangelism, he wrote me a note that began with:
"Lots of people rejected the Gospel tonight..."
I suppose tonight's evangelism would have been quite wearisome and depressing, were it not for the helpers the Lord sent us. It was quite refreshing to have them with us. I hope the Lord will be pleased to add a few labourers to work with us in the weeks ahead. His will be done!
Have a blessed and safe weekend, dear readers...
Rand
"The harvest truly is great, but the labourers are few: pray ye therefore the Lord of the harvest, that he would send forth labourers into his harvest." (Luke 10:2)