Now where did Rand go?
Monday, December 04, 2006
sure is warm in the South!!!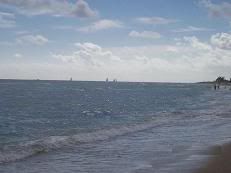 I do apologize, dear readers for the lack of blogging this past week. It wasn't laziness or a lack of interest that kept me from writing posts. Rather, it was a business trip. A business trip to West Palm Beach, Florida! Woohoo!!!
Yep, I just spent the week down in the southern United States, learning everything about a very complicated lab instrument my boss bought a few months ago now. The course was pretty intensive, but not impossible. I learned alot, so my boss won't regret the investment (it was quite the investment, this trip will cost a few grands for sure).

As you can see by the pictures accompanying this post, my trip wasn't all work and no play. I found some quality time to play tourist in this warm, beautiful city. The chief attraction, of course, is the ocean.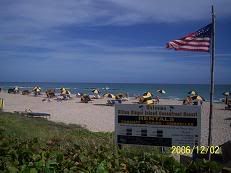 Oh! and did I mention the warm weather? Imagine this Canuck's shock as he realized that he was most comfortable in summer clothes... in December!!! It was so warm in West Palm Beach last week, I actually went into the ocean to cool off! Talk about fun!

Other than the ocean, West Palm Beach has all the normal characteristics of a southern city. It was full of tourists (mostly from Canada), there were evangelical churches (mostly Baptist) on every street, not one but two religious radio stations, and the definite patriotism was evident by the zillions of flags floating in front of nearly all business and residence. On the downside, racial segregation was most evident in WPB, and the seperation between rich and poor was also clear. One could take a walk and see the clear division between million dollar homes owned by rich white folk and the slums of poor black folk. I guess this is a staple of most "tourist cities", but I couldn't help being somewhat sad at the sight of it.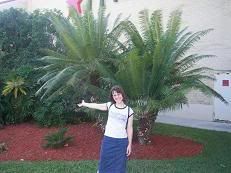 Did I mention that I am now the bestest husband in the world? Yes, this title was given to me after arranging for my wife to come down with me for a well deserved vacation. So my wife had 5 days away from the kids to party and relax while her husband, well, he went to work. But I'm not bitter... nope... not me...
Kidding aside, this was the first time I took my wife with me on a business trip, and it sure made my sojourn that much more enjoyable. It doesn't matter where you go, if you are by yourself for any length of time, loneliness doesn't take long to set in. So instead of missing my wife while away from home, she and I were out together every night, enjoying each other's company.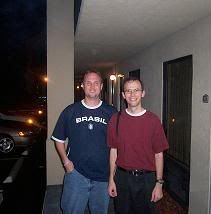 Oh! and guess what the cat dragged in? Yep, brother Pete from

My All For One

took a short flight from the western side of Florida and dropped by for a short visit. We had a great time of fellowship. For those who are counting, this is the second blogger I have got together with on my work-related travels. Michael Gallagher of

Christian Conservative

being the first.
We all took a walk by the ocean and talked at length on various spiritual matters, and I believe brother Pete best summarized our conversation with this one word: refreshing.
You can get Pete's take on our meeting over on his blog, at

My All For One

.
So that's it! I hope to get back to more consistent blogging in the coming weeks, so stay tuned.
Take care, dear readers,
Rand
Ps: I have a few more pictures from my trip: this
one
is of a lizard
(there are very few lizards in Canada)
, and this
one
is of a downtown street in WPB
(I thought it would be a great place to do some preaching)
. I also have
this short video
of Pete and I giving a good old fashion Don Cherry style thumbs-up, and
another video of the ocean
, in all it's beauty and grandeur.
9:26 PM
At 4:24 PM,

Pearl said…
At 4:24 PM,

ann_in_grace said…
At 4:26 PM,

Marcel Longchamps said…
Post a Comment
Permalink