Friday Night Notes
Saturday, May 30, 2009
preaching the Gospel isn't a shtick...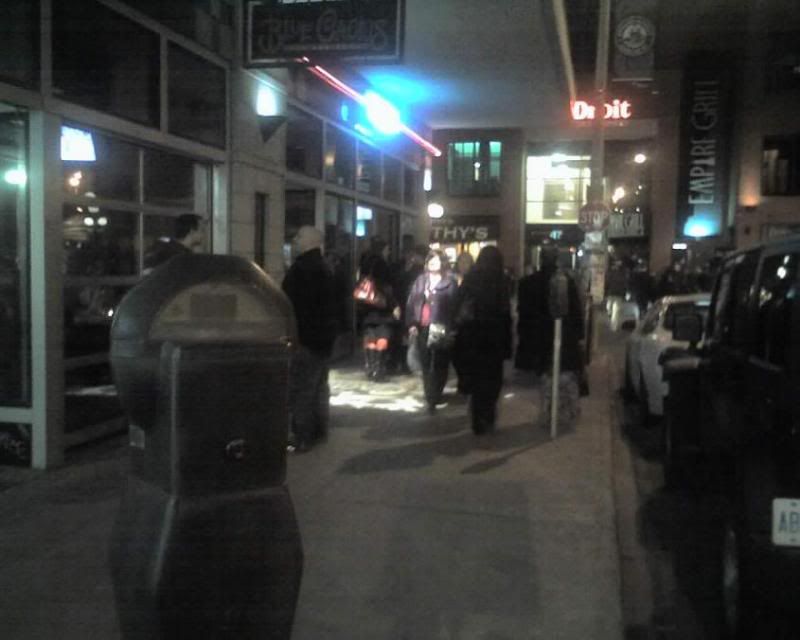 The week went by so fast, I didn't even remember that it had been two weeks since I last went out for some street preaching. Seriously, time just seems to be flashing by lately. I didn't feel rusty at all out there tonight.
Pastor Tim was away at a family gathering, so I lone-rangered it for almost three hours, handing out Bible tracts and preaching the Gospel of the Lord Jesus Christ. The response was again quite varied. A woman gave me a "God bless you" as she walked by me early in the evening, but an hour later, a young man took one of my Bible tracts only to rip it in two. I was mocked by the overwhelming majority, but that's to be expected:
"But the natural man receiveth not the things of the Spirit of God: for they are foolishness unto him: neither can he know them, because they are spiritually discerned." (1 Corinthians 2:14)
I only had two one-on-one conversations tonight. One was with a believer who was visiting the city from Alabama. He couldn't believe how spiritually barren the people of my city were; he was amazed at the hostility he faced at the very mention of God or the Scriptures.
"Welcome to Dead Land," I said, "welcome to Dead Land..."
Hours later I had a rather long chat with an unbeliever who, at first anyway, seemed to want to argue and/or mock me. It was clear that as we began to talk, he was waiting for me to give him "my shtick", or "my sales pitch". He was more than a bit surprised that I had neither for him.
"But... aren't you suppose to yell at me that I'm going to Hell and all that?" he said.
"If you want to talk about Hell and your spiritual state, my friend, we can do that," I replied. "I don't see why I would waste my time though, since very manifestly, you've heard the Gospel before, and you don't seem to want anything to do with it."
"You're so... well... rational," the young man began, "I feel bad now that I thought bad of you."
It was a strange conversation, yet surprisingly profitable. We spoke about what it means to be saved and how the Lord's salvation changes everything. I told the young man that since my conversion, I've seen God's hand in everything; in the good times and the bad times. I also spoke of how God's love for me constrains me to serve him, and that, with my whole heart. I must have made a lot of sense to him, since by the end of our conversation, the man insisted on shaking my hand (twice!), and said:
"I wish you weren't here with this Bible sign, but I have to say that you are one seriously faithful man, and in a way, I kind of wish I could be that passionate."
The Lord open this lost soul's eyes. I hope that God will use things I've said tonight to save and sanctify as He sees fit.
Thank you again, dear readers, for following my Friday night adventures.
Rand
Ps: I will be preaching the evening service this Lord's Day... please remember me in your prayers, dear saints of God.
Labels: Friday evangelism